Re View: 10 Year Anniversary
It has been 10 years since Gallery Lambton closed its doors at the former Bayside Centre and moved down the street to re-open in the historic Thom Building as the Judith & Norman Alix Art Gallery. To honour its first decade in this purpose-built facility, the gallery is installing a series of six exhibitions over a year and a half titled Re View. The exhibitions place the gallery's permanent collection in the spotlight and celebrate the power of art. Each exhibit features a range of artworks that will be accompanied by audio tours written and voiced by gallery volunteers.
Letter from the Curator
The idea behind this series of exhibitions collectively titled Re View began percolating through the early months of the 2020 pandemic and would continue to take shape as we rode the waves of closures and restrictions in the coming years.
In light of the gallery's approaching 10-year anniversary* questions came to the surface like: how do we gather without physically being in the same space? How can we continue to share experiences while respecting comfort levels? And how do we connect in this time of distancing?
It became clear that connection and sharing moments of joy and discovery were important parts of our lives at the gallery (volunteers and staff alike) and something we missed when we were apart. A simple solution presented itself, we could depend on art to reconnect us.
A selection of works from the permanent collection focused the project and a call for interest from volunteers to script and voice audio tours was sent out. Agreements to work virtually and physically were followed by numerous visits to the vault to view art works. Hours of research and writing commenced and were followed by dozens of hours spent coaching and editing in virtual and physical meeting spaces. Recording the tour presented a host of new challenges and a summers worth of audio editing wrapped the project over two years later…culminating in Re View.
Six exhibitions in total will be installed with the two-fold intention of celebrating the Judith & Norman Alix Art Gallery's 10th year in the historic Thom Building and celebrating the power of art. The exhibitions encourage visitors to rediscover artworks through the accompaniment of carefully crafted audio tours. The strength of the audio tours come from the varying tones and approaches which aim to help guide visitors to new discoveries and even share in moments of joy.
Sincerest thanks go to the volunteers who are committed to inspiring their community through art and the staff and summer students that supported this project to completion.
Curator/Supervisor, Judith & Norman Alix Art Gallery
*10 years since Gallery Lambton closed its doors at the former Bayside Centre and moved down the street to re-open in the historic Thom Building as the Judith & Norman Alix Art Gallery.

Image credit: William Ronald, Untitled, 1995; aquacryl and graphite on wove paper. From the collection of the Judith & Norman Alix Art Gallery.
---
Re View
Exhibition 2
February 3 – April 15, 2023
The exhibition is a deliriously bright and immersive experience featuring the paintings of Canadian modernist painter, and founder of Painters Eleven, William Ronald (1926-1998). The exhibition will include an all-ages audio tour specially crafted to enhance the visitor experience and ignite playful curiosity in these abstract works.
Art & Ideas
The Art and Career of William Ronald
with Lawrence Brissenden
Thursday, March 23 @ 7 PM
Free I In-person event at JNAAG I Registration required
Lawrence Brissenden will discuss the Art career of William Ronald. Working with the original source documents and photos from the estate of William Ronald, the lecture will provide previously unknown details and unseen photos of the artist's important career.
Lawrence Brissenden is a graduate of Dalhousie University and is a professional accountant. After a longtime fascination with the art of William Ronald, he began three years ago to assist The Estate of William Ronald to digitize its extensive archive and to organize a catalog raisonné project of the artist's entire creative works. The William Ronald Authentic Inventory ("WRAI") project version 1 includes over 3,000 original works by William Ronald.
Upcoming Re View Exhibitions
Exhibition 3
May 5 - July 23, 2023
Dramatic portraits encourage us to explore identity, an en plein-air painting by a historic female artist asks us to reflect on shifting landscapes, and Lambton County-based artists dive into folklore and abstraction
Exhibition 4
November 3, 2023 - January 13, 2024
Contemplative guided tours encourage visitors to look deep into large atmospheric works and search for answers in a symbolist painting. Get a firsthand perspective from an area artist as she speaks about how the changes in downtown Sarnia galvanized one of her watercolour paintings.
Exhibition 5
February 2 - April 13, 2024
A musical response to a classic painting takes center stage while a mysterious tour inspires you to delight in the details of a lily pond.
Exhibition 6
May 3 - July 14, 2024
Contradiction is explored through an enormous glowing painting and a historic interior is examined in minute detail. Mid-century architecture initiates a conversation about man versus nature and spring bursts from the seams of a canvas.
Previous Re View Exhibitions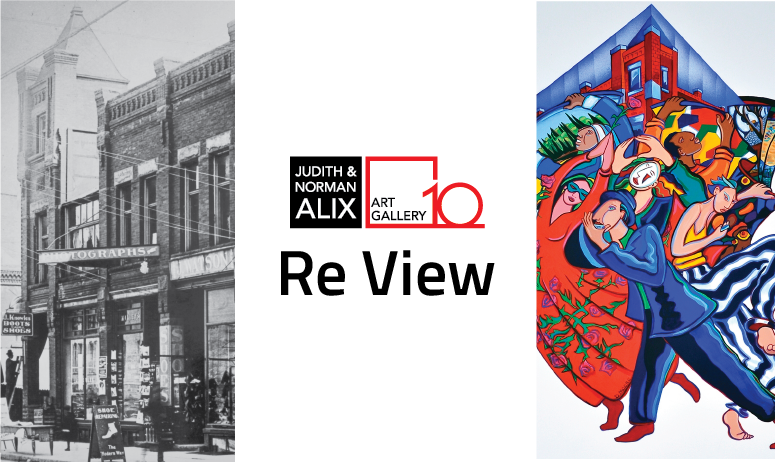 Image credit (left): Holland Paisley Collection, image courtesy of Lambton County Archives
Image credit (right): David Moore, In Celebration of the New Judith & Norman Alix Art Gallery, 2011, acrylic on paper. From the collection of the Judith & Norman Alix Art Gallery
---
Re View
Exhibition 1
November 4, 2022 – January 21, 2023
This exhibit pulled visitors into the past to trace the building's history and offers an opportunity to celebrate J.S. Thom, the artist who built the Thom Building (the building the Judith & Norman Alix Art Gallery is currently situated in). Original Thom photographs were brought together with artifacts of the era to reconstruct the feeling of his photography studio, which occupied the building well over 100 years ago.
Photo Gallery: Re View Exhibition 1 Photo Gallery will appear here on the public site.
Become a member
Access exclusive content about the Re View exhibition by becoming a JNAAG member.