An Abridged Sonic History of Global Conflict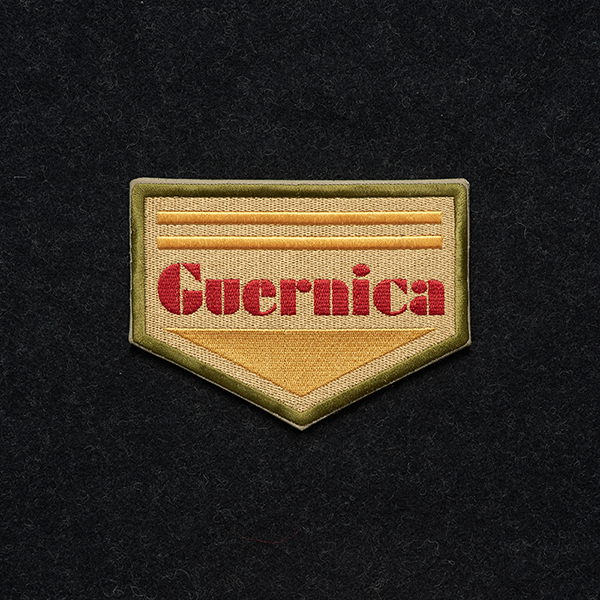 Lee Henderson
April 7, 2021- January 30, 2022
In 2015, a controversy raged around the Calgary band then known as Viet Cong, and their decision to adopt a name so fraught with trauma, violence, nationalism, and imperialism. In observing the controversy, I contemplated both the costs of such a choice, and the rock music traditions of which it is the obvious result. "An Abridged Sonic History of Global Conflict" is the resulting compilation of musical bands named for wars, including acts of war, armed uprisings, military figures, and siege weapons.
As I continue to grow my list of these through research, I use that history to inform my choices as I design an embroidered patch for each, grouping them by relevant conflict—the Vietnam-American War, World War I, the Postwar Period, and so on. They are thus reconnected to the violence of their etymologies. After all, patches are how we demonstrate our belonging and our position within a subculture, whether as a Private First Class or as a fan of obscurely niche death metal...while the bodies they adorn onstage in a rock show (young adult, mostly male) are the same bodies we traditionally send to kill and die (young adult, mostly male).
- Lee Henderson
Lee Henderson is a contemporary artist whose practice includes video, photography, installation, sculpture, performance, and text. Henderson is based in Toronto, Ontario where he currently teaches art and media at Ryerson and OCAD University. He studied art in Canada and Germany and received a BFA from the Alberta College of Art and Design and an MFA from the University of Regina. Henderson has exhibited across Canada, as well as Los Angeles, Washington, Chicago, Naples, and Berlin; notable recent venues include The Phillips Collection at the Hirshhorn Museum and Sculpture Garden, the Magenta Festival Boston, and The Zero Film Festival (USA); The Dunlop Art Gallery, The Mendel Art Gallery, The Rooms Provincial Art Gallery, Nuit Blanche Edmonton, and YYZ Artists' Outlet (Canada); and kunstraum tapir, Berlin (Germany). His work can be found in private and public collections including the Mendel Art Gallery/Remai Modern, the University of Regina President's Collection, and The Center for Fine Art Photography USA.
Image credit: Lee Henderson, An Abridged Sonic History of Global Conflict—Spanish Civil War, 1936-1939 (detail, Guernica), embroidery on cotton.
Lee Henderson Artist Interview