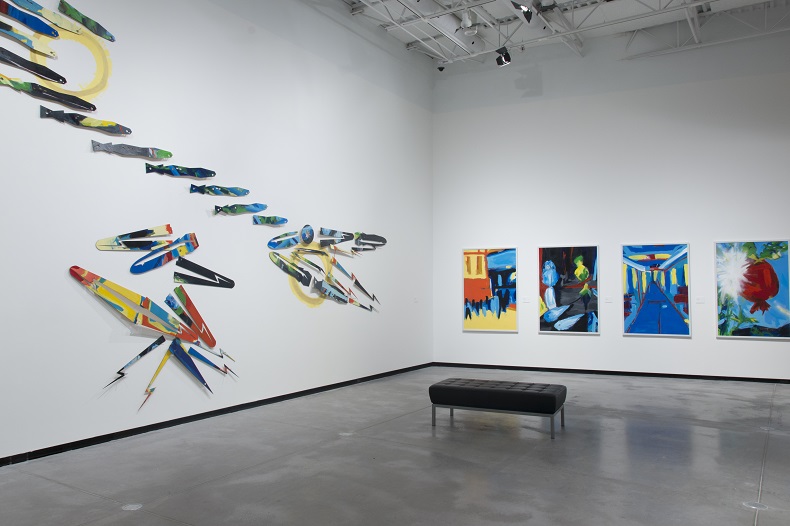 The exhibition was initiated by Strathcona County Art Gallery @ 501 with a national tour organized by the Mendel Art Gallery
February 6 - May 3, 2015

This dynamic, multi-media exhibition features two recent works created by Jason Baerg, a Cree Métis artist based in Toronto/New York. The work in this exhibition includes a series of circular paintings from theRelations series, which draw on Baerg's early training in abstraction combined with computer-generated elements. Also included is a new installation of figurative-abstract paintings, entitledNomadic Bounce. Both works are presented alongside videos comprised of photo- and computer-based imagery, thus continuing Baerg's commitment to new and traditional modes of art production and engagement.

Relations was developed out of a residency investigating the many prophecies that concern 2012—Mayan, Hopi, Mohawk, Tibetan. The resulting 13 circular works, or tondos, speak to notions of the passage of time and suggest a reconsideration of Indigenous frameworks of knowledge. Relations explores these cosmic themes through sculptural paintings, which embrace our relationship to each other, the Earth, the sun and beyond.

In 2013 Baerg served as the Aboriginal Curator in residence at the JNAAG. He has presented his work across Canada and internationally, participated in residencies, sat on numerous art juries. Dedicated to community development, Baerg has contributed to such national arts organizations as the National Indigenous Media Arts Coalition, the Independent Media Arts Alliance, and the Aboriginal Curatorial Collective.
Image Credit: Jason Baerg,Relations installation detail, acrylic on wood