Two Views: Canada's North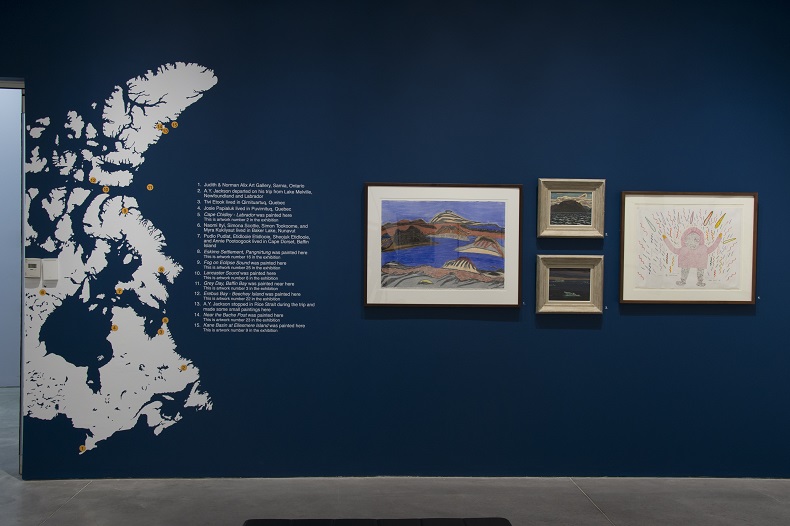 February 6 - April 19, 2015
Organized by JNAAG featuring work from the permanent collections of JNAAG and the Macdonald Stewart Art Centre (Guelph)

In Two Views: Canada's North, twelve rich oil sketches by A.Y. Jackson join a chorus of sixteen Inuit drawings, prints, and wall-hangings by artists Pudlo Pudlat, Annie Pootoogook, Naomi Ityi, and more, for a fertile exploration of place and landscape. One perspective of the landscape is temporal and distanced, respectful but unfamiliar. The other is timeless and immediate, rooted in a simultaneous comfort and anxiety of existence. By contrasting these two perspectives, we can all relate in different ways to our own personal connection to landscape and understanding of place.

As Lucy Lippard wrote in The Lure of the Local, the understanding of what 'local' means is inherently connected to a concept of place - a portion of land/town/cityscape seen from the inside, the resonance of a particular location that is known and familiar. Most often place applies to our own 'local' - entwined with personal memory, known or unknown histories, marks made in the land that provoke and evoke.(1) The difference between Jackson's impression of the North and that of the Inuit artists is a different sense of lived experience. Landscape is what you see from a single (static or mobile) point of view - a set of surfaces, the pictorial or the picturesque, "as far as the eye can see"... Unlike place, landscape can only be seen from the outside, as a backdrop for the experience of viewing. The scene is the seen.(2)

(1) Lucy Lippard and Robert Dawson, The Lure of the Local: Sense of Place in a Multicentered Society, New York, NY: The New Press, 1997, p7.
(2) Ibid, p8.
Image Credit: Simona Scottie, Traditional Tools on Caribou Skin (2001) wood duffle and felt, cotton embroidery thread, Purchased with financial support of the Canada Council for the Arts Acquisition Assistance Program, 2003, Macdonald Stewart Art Centre Collection