JNAAG is commemorating its 10-year anniversary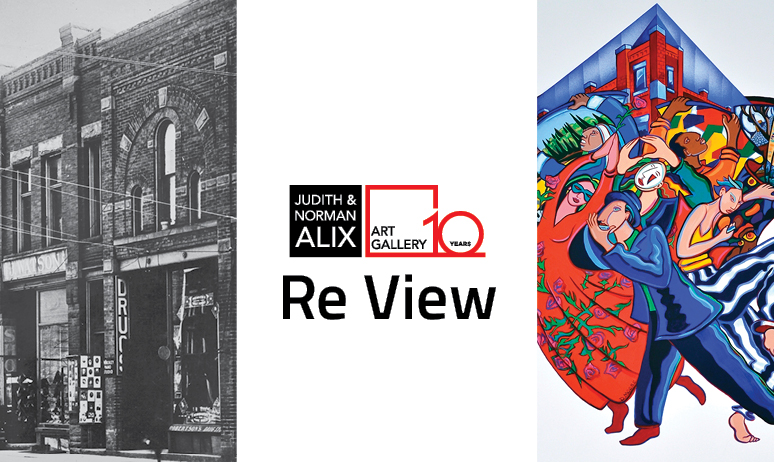 Image credit (left): Holland Paisley Collection, image courtesy of Lambton Archives
Image credit (right): David Moore, In Celebration of the New Judith & Norman Alix Art Gallery, 2011, acrylic on paper. From the collection of the Judith & Norman Alix Art Gallery
Sarnia, ON – It has been 10 years since Gallery Lambton closed its doors at the former Bayside Centre and moved down the street to re-open in the historic Thom Building as the Judith & Norman Alix Art Gallery. To honour its first decade in this purpose-built facility, the Gallery is installing a series of exhibitions over the next year and a half titled Re View. The exhibitions place the Gallery's permanent collection in the spotlight and celebrate the power of art.
The first exhibit in the series, opening November 4, pulls visitors into the past to trace the building's history and offers an opportunity to celebrate J.S. Thom (1893-1933), the artist that constructed the Thom Building. Original Thom photographs are brought together with artifacts of the era to reconstruct the feeling of his historic photography studio. An audio tour, scripted and voiced by a Gallery volunteer, will be released to accompany the painting In Celebration of the New Judith & Norman Alix Art Gallery, by David Moore.
Starting November 4, in partnership with TMRRW Inc., the Gallery will merge the historic with the modern and members of the public can experience the Thom Building through augmented reality by scanning a QR code on site. From street level, the original Thom Building will be augmented, to scale, overtop of the current building.
Several components, artifacts, and photographs of this exhibition were developed and borrowed from community member John Rochon, Lambton Heritage Museum, and Lambton County Archives.
For information about the exhibition, visit jnaag.ca.
The Judith & Norman Alix Art Gallery is open Wednesdays from 11:00 a.m. – 4:00 p.m., Thursdays from 11:00 a.m. – 8:30p.m., and Friday and Saturdays from 11:00 a.m. –4:00 p.m.


-30-
Please contact:
Sonya Blazek
Curator, Judith & Norman Alix Art Gallery
County of Lambton