Judith & Norman Alix Art Gallery Announces Look & See Artists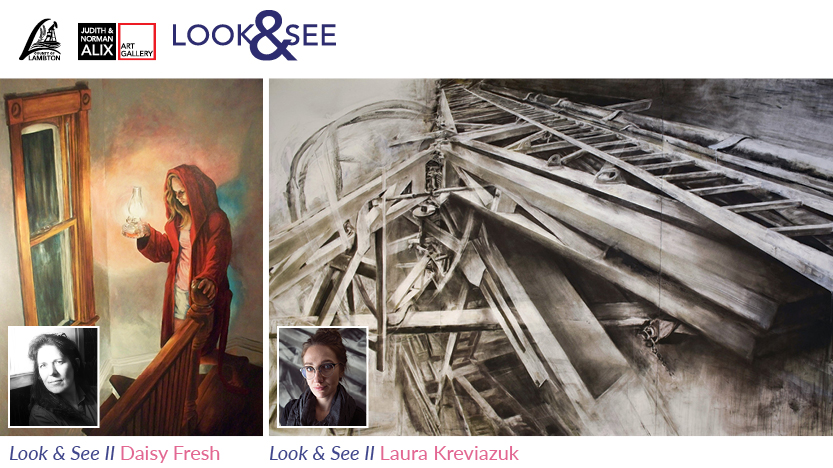 Sarnia, ON - Two Lambton County-based artists have been selected for this summer's Look & See pop-up art exhibitions at the Judith & Norman Alix Art Gallery.

Laura Kreviazuk of Sarnia and Daisy Fresh of Alvinston will showcase July 6 - 15.
Laura Kreviazuk's large drawings submerge us in a world teetering between stability and chaos, while the imagery in the paintings of Daisy Fresh dramatically references history, architecture, and the human experience," said Assistant Curator Sonya Blazek.
Nearly 40 applications were submitted for exhibition consideration and five studio visits were conducted by gallery staff. The gallery offers its congratulations to all artists who submitted their work to the Look & See initiative.
About the Judith & Norman Alix Art Gallery: Owned and operated by the County of Lambton and located in the centre of Sarnia's downtown cultural district, a block from the waterfront, the Judith & Norman Alix Art Gallery offers a wide range of exhibitions, tours, lectures and programs. Housed in the Thom building (also known as the Saks building), the gallery's permanent collection comprises over 1,200 Canadian historical and contemporary works.
Revolving exhibitions from the gallery's permanent collection along with temporary exhibitions by contemporary artists and works from other galleries open a window on the past and help preserve and present our visual culture heritage locally and nationally.