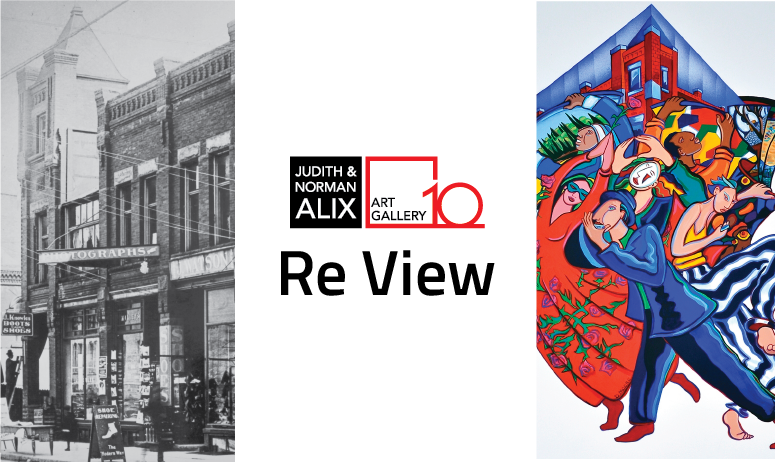 Image credit (left): Holland Paisley Collection, image courtesy of Lambton County Archives
Image credit (right): David Moore, In Celebration of the New Judith & Norman Alix Art Gallery, 2011, acrylic on paper. From the collection of the Judith & Norman Alix Art Gallery
Re View
Exhibition 1
November 4, 2022 – January 21, 2023
It has been 10 years since Gallery Lambton closed its doors at the former Bayside Centre and moved down the street to re-open in the historic Thom Building as the Judith & Norman Alix Art Gallery. To honour its first decade in this purpose-built facility, the gallery is installing a series of exhibitions over a year and a half titled Re View. The exhibitions place the gallery's permanent collection in the spotlight and celebrates the power of art. Each exhibit features a range of artworks that will be accompanied by audio tours written and voiced by gallery volunteers.
The first exhibit in the series pulled visitors into the past to trace the building's history and offers an opportunity to celebrate J.S. Thom, the artist who built the Thom Building (the building the Judith & Norman Alix Art Gallery is currently situated in). Original Thom photographs were brought together with artifacts of the era to reconstruct the feeling of his photography studio, which occupied the building well over 100 years ago.
This celebration would not have been possible without the support of volunteers that are committed to enriching their community through art. Thank you.
We also extend thanks to the donors and patrons of the gallery who allow us to share these artworks with the community. For this installation we also thank John Rochon, Lambton Heritage Museum and Lambton County Archives for their loans and historic expertise.
For more information on the Re View exhibition series, please visit our 10 Year Anniversary page.
Photo Gallery: Re View Exhibition 1 will appear here on the public site.